In the United States:
See also our international projects and learn more about our team.
---

E-Learning Professional Development 

World Education recognized the potential of online tools to provide much-needed access to high-quality professional development for adult educators. We offer courses in a wide range or topics, lengths, and formats. Topics include college and career readiness, learner persistence, numeracy, and technology integration, among others. Courses are available as self-paced or facilitated or in custom arrangements enhanced with webinars. All courses are designed and facilitated by subject matter experts. We welcome groups of all sizes and are happy to customize our catalog to meet specific needs.
---

English Now!
Many immigrants who want to study English can't. Funding for adult education classes is limited, so programs that offer English as a second language (ESL) classes are often full and can't always offer seats to all who need one. Many programs have anywhere from 60 to 600 adults on a waiting list for English classes at any one time.
With a grant from Dollar General Literacy Foundation, World Education's EdTech Center is designing and piloting a project in five New England adult education programs, so those who want to learn English do not have to wait months to begin their study.
In collaboration with Peer 2 Peer University (P2PU), this project is providing low-cost English language learning opportunities for adults on waitlists through weekly study groups (learning circles) where learners will work through online English courses together. The EdTech Center and P2PU staff train program staff, who turn train volunteer's to run the lightly-facilitated learning circles. The proposed proof of concept project is laying the groundwork for a scale-up of an innovative, low-cost blended learning intervention to open access to instruction for hundreds of immigrants on waiting lists for classes.
---

High School Equivalency Program for Out-of-School Migrant Youth
Migrant labor is fundamental to the U.S. economy. However, migrant youth are often invisible and highly mobile.
This project is designed to address the needs of those out-of-school migrant youth residing in the New England area who want to earn a high-school equivalency. While New England states work hard to provide quality universal education for their residents, there is a significant inequity in access to education for farm-workers: those furthest outside the educational structure are migrant farm-workers who are geographically isolated and have limited English proficiency. Access to educational services is nearly impossible without the support of an intermediary.
World Education is the main technical assistance provider to a consortium of four New England states (MA, ME, NH, and VT) led by EDCO Collaborative in MA for a contract from the U.S. Office of Migrant Education that is providing technology-enhanced secondary level educational services for out-of-school youth migrant workers, ages 16-24.
The project is closing the gap to education access by supporting online blended learning opportunities via Internet-ready tablets with web access. The EdTech Center is developing a mobile screening and assessment tool administered via smart phones and tablets and three online mini-courses to be hosted on our learning management system.
---

IDEAL Consortium

The IDEAL Consortium (previously Project IDEAL) was founded in 2002 by Dr. Jere Johnston as a consortium of states interested in developing distance education programs to meet the distance learning needs of adults for whom classroom options were either not available or not a good fit. As a voice for member states, the consortium has shaped distance education policy at the state and national levels and provided professional development expertise.
In 2015, Dr. Johnston announced his retirement and with that the closing of Project IDEAL at the University of Michigan. Dr. Johnston selected World Education and its EdTech Center as the new home of Project IDEAL, now renamed the IDEAL Consortium.
The IDEAL consortium continues to help member states achieve their vision by responding to the needs and interests of consortium membership. Currently, our work is focused on the exploration of the impact of WIOA on distance education. We also have released the newly updated IDEAL Distance Education and Blended Learning Handbook and updated online courses. In addition, IDEAL will be offering three new courses on OERs, blended, and mobile learning. Learn more about our member services or download the IDEAL Fact Sheet.  Have questions? Contact us.
---

Massachusetts Career Readiness Initiative

Massachusetts Career Readiness Initiative provides Massachusetts' 32 One-Stop Career Centers, 15 community colleges, and 50 adult basic education programs with the online ACT Career Readiness System user licenses. World Education supports programs in their integration of technology by offering training on blended learning models. See Characteristics of Effective Online Learners and Learning Coaches.
---

Tech Tips for Teachers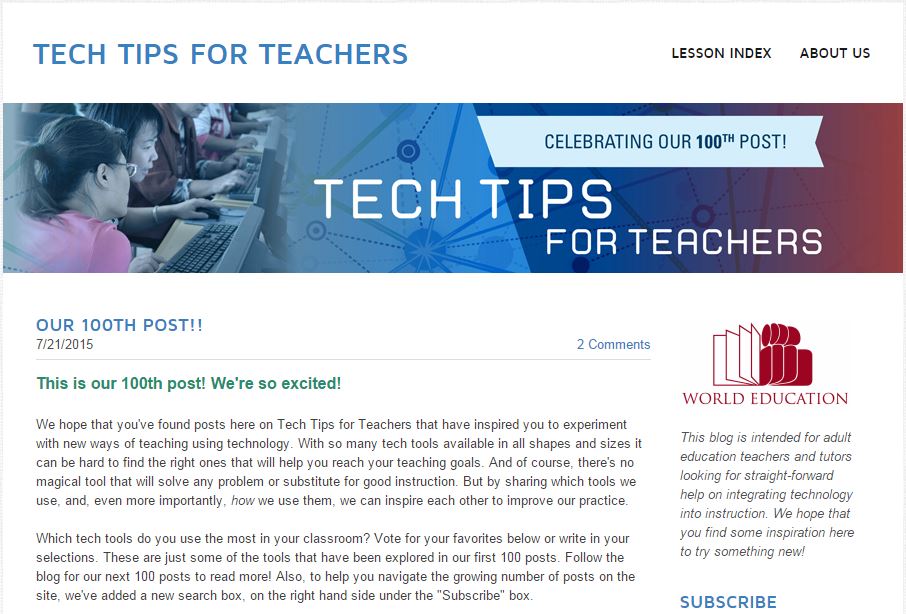 Tech Tips for Teachers is a blog with a strong national following that offers advice to adult education teachers and tutors on digital literacy, access and integrating emerging technologies into instruction. Posts include step-by-step lesson ideas and information about new resources and opportunities.
Posts explore technology integration through areas including reading and writing instruction, math and numeracy, science, career exploration, organizing information and more. If you are interested in contributing a post, please contact us at literacy@worlded.org.
---

Technology Integration Project (TIP)

The Technology Integration Project (TIP) was a blended professional development initiative focused on building the capacity of New England adult educators to incorporate technology into instruction. Offered by the New England Literacy Resource Center, TIP featured a facilitated online course, mentoring to develop technology-supported lessons, collaboration and peer observation, and practice using technology to share and present work. TIP provided an extensive archive of lesson examples for other educators to learn from. See one teacher's reflection.
---

Words2Learn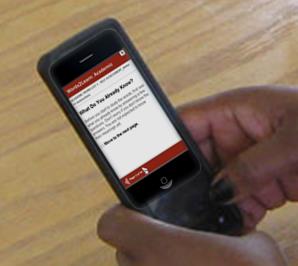 Words2Learn developed and piloted two apps that accelerate learning of academic and health career-related vocabulary for adults preparing to enter post-secondary education and technical training. The project was funded by the Nellie Mae Education Foundation and designed and managed by World Education's National College Transition Network. Read the report.
Participating teachers reported that the approach, the apps, and the learning management system increased student vocabulary. "Students universally liked the app, found it easy to use, found the form of activities interesting and engaging, and found it helpful for their own learning." While slightly more than 50 percent of students passed a pre-test of the words, 79 percent passed the post-test. This mobile learning project continues to offer training in blended learning and use of Words2Learn in New England states.