AIMS – Cambodia

With funding support from the Dream Blue Foundation (DBF), a corporate foundation of Blue Telcom, Inc., World Education has developed Cambodia's first Khmer-language website and accompanying interactive voice response system aimed at providing migrant or potential migrant youth with information to help them stay safe. Before the AIMS project, there were few online resources and no online training programs in Khmer for migrant youth. Through this platform, AIMS provides and increases access to important information to help youth migrate safely and improve their chances of better work and life outcomes, and builds youth capacity to use the Internet to gather information and communicate with others.
---
Aprender a Ler (Learn to Read) – Mozambique
From 2012-2016, World Education, Inc. implemented the USAID|Aprender a Ler (Learn to Read) program in the northern provinces of Nampula and Zambézia in Mozambique. With the goal of improving early grade reading outcomes for students in grades 1-3, WEI used technology via radios and smartphones as a critical companion to training, coaching, and overall school-community support for reading. Several of these approaches are outlined below:
Mobile Data Collection – Staff members from local education institutes (district officials, teacher trainers, etc.) were trained on the use of the smartphones in data collections. Using the Magpi app (data collection platform), digital forms were installed on each phone and staff members were able to monitor teacher in-service sessions and conduct Rapid School Assessments. The data collected through the forms were sent to a web-based server to be downloaded, analyzed, and presented to aid decision-making.
Radio Programs – Solar-powered radios pre-loaded with content were used to help teachers with both local language and Portuguese read-aloud books. The radios were also used in reading clubs outside of the classrooms to practice reading. Additionally, local radio stations broadcast programs to inform the parents and community about reading and their roles and responsibilities to assure their children would attend school and practice reading at home.
Audiovisual Support – Smartphones were preloaded with visual and audio tools to help teach the phonics-based approach of the program. An android application was developed that showed letter cards while playing the correct sound of the letter shown. Aside from the phonics app, the phones also included modelling videos where teachers demonstrate the use of classroom resources and how to conduct decoding activities.
SMS Messaging – SMS messaging was used to inform stakeholders about trainings and to invite them to participate. This included reminders to teachers, school directors, and even local ministry officials. On top of invitations for training and presentations, the SMSs also included motivational messages in which specific schools and clusters were complimented on their positive results from an assessment or educational tips on the use of the classroom resources. The use of SMS proved to be a simple and effective way of sharing information and additional instruction when needed.
---
Cocoalink – Ghana
Farmers in remote locations do not always receive the farmer extension services provided by the local government because of the limited reach of the extension services and inability of these farmers to access the services. In response, World Education – with funding support from Hershey's and World Cocoa Foundation – developed CocoaLink, which used mobile technology to communicate practical, timely, and important agricultural and social information to cocoa farmers in Ghana. Through Cocoalink, farmer extension services were delivered to cocoa farmers through a cost-effective and feasible mechanism that enabled cocoa farmers to request and obtain timely farming, social, health, and marketing information to improve their incomes and livelihoods.
---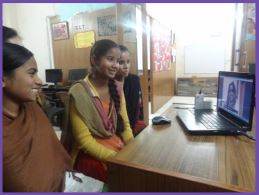 From 2011-2015, World Education partnered with the Alcatel-Lucent Foundation in five countries across the globe to implement the ConnectEd program. The aim of ConnectEd was to help the most disadvantaged youth achieve better learning outcomes, gain skills to prepare them for the world of work, and to be more active in their communities. ConnectEd focused on the use of technology to transform the learning, work, and life outcomes of its youth. See Lessons Learned from ConnectEd and How Technology Supports ConnectEd's Work with Disadvantaged Youth
---
Empower II – Ghana
EMPower II worked with local organizations to ensure that the most at-risk populations in Ghana could access necessary HIV prevention information and support services.  A key component of the project was using bulk text messaging to confidentially communicate important HIV prevention and treatment messages to subscribers. These messages were designed to ensure that people living with HIV/AIDS possessed life-saving information about HIV transmission (including key behaviors to minimize transmission) and access to treatment and services. Additionally, EMPower II adapted INFOREACH (an existing HIV Prevention outreach guide that covers the 10 key HIV prevention behaviors, including legal issues, family planning, stigma, and discrimination) to suit the particular needs of the project's target groups. The INFOREACH content was recorded on mobile phone memory cards and CDs and distributed to Lead Trainers and Counselors to use in one-on-one and support group sessions, and for large anti-stigma outreach campaigns. In April 2015, the Empower II project was featured in the USAID African Strategies for Health's mHealth Compendium Volume 4.
---
Technology for Education Systems Transformation (TEST) – Cambodia
In the Technology for Education Systems Transformation project (TEST) project, World Education developed, tested, and implemented a digitized and automated early-grade reading assessment. The benchmarks and assessments used for the TEST app were developed under the Total Reading Approach for Children (TRAC) project and have been formally endorsed by the Ministry of Education, Youth and Sport (MoEYS). These early grade reading benchmarks have now been adopted as National Reading Standards. The TEST project worked with over 2,000 students and 57 teachers to develop the app, optimize its usability and support the TEST app's scaling up at an additional 100 schools across Cambodia under the TRAC and TRAC+ projects.
The TEST app improves upon the previous pencil-and-paper version of the TRAC assessments by increasing uniformity in test administration, reducing scoring error and bias, and automatically compiling student score data to quickly identify struggling students. These improvements also promote teacher understanding and use of the Continuous Assessment System as a diagnostic tool for student learning, while at the same time facilitating teacher and student use and understanding of technology in the classroom. TEST was supported by DAI through their Development Innovations Project, which is funded by USAID. Check out a photo essay about World Education's work under the TEST project: Learning to Read.
---
Total Reading Approach for Children Plus (TRAC+) – Cambodia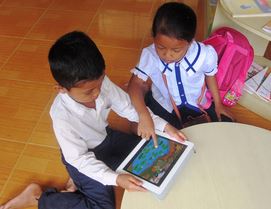 The Total Reading Approach for Children Plus (TRAC+) project builds on the success of the innovative Total Reading Approach for Children (TRAC) project (2012- 2014). Through TRAC+, World Education expands the TRAC system to reach 138 schools in five provinces, as well as developing national reading standards for grade 3. As in the TRAC pilot program, TRAC+ consists of three key interventions designed to improve early-grade reading in Cambodia:
National Reading Standards: World Education collaborated with the Ministry of Education, Youth and Sport (MoEYS) to create a reading benchmark system for the new national reading curriculum. These benchmarks have been fully endorsed by the MoEYS as National Reading Standards. The National Reading Standards include specific tasks and skills that students should master at designated intervals. The National Reading Standards include regular interval assessments for Grades 1-3, which allow teachers to identify struggling students and provide timely, targeted support. Each interval assessment includes statements of reading abilities, associated reading skills, content summaries, and indicative tasks that illustrate the stated competencies.
Literacy Coaches: TRAC selected and trained school-based literacy coaches, the first time such a position has been created in Cambodian schools. These coaches help teachers administer the benchmark assessments and the Rapid Response System interventions. They also act as the liaison between schools and parents.
Rapid Response System: Literacy coaches implement the project's Rapid Response System (RRS) after identifying struggling students through the benchmark assessments. The RRS includes parental engagement, peer tutoring, a reading toolkit, and an mLearning application. The toolkit and mLearning application are aligned with the national curriculum and TRAC reading benchmark system. The mLearning application is the first Khmer language education app for primary grades. In addition to supporting Cambodian schools, the TRAC+
In addition to supporting Cambodian schools, the TRAC+ project also builds the educational capacity of its funding partner, World Vision, whose staff receive training on the TRAC system from the World Education implementation team.
---
World Education – Nepal
In Nepal, World Education's Tech4Ed project is developing and promoting the use of technological tools to address two very different challenges: exploitation of migrant laborers and a dearth of mother tongue reading materials for the roughly 60% of Nepal's children whose first language is not Nepali. In both cases, innovative use of technology allows World Education to expand the impact of its educational expertise beyond the number of people that could be reached through traditional programming.
As many as 1,700 migrants leave Nepal for foreign work every day, a move that brings both promise of better wages and of exploitation, unmanageable debt, and trafficking. Many migrants lack financial literacy skills, which puts them at greater risk.  After realizing that face-to-face financial literacy classes could not keep pace with the flow of workers leaving the country, World Education developed a mobile application, "Prabasiko Sath", with financial tools to guide migrants through pre-departure financial planning and money management while working abroad. The app also contains embedded safe migration messages and contact information for service providers to further reduce migrants' risk.
The second focus of World Education's technology work is developing decodable and leveled readers in six minority languages, plus Nepali, using Bloom software. Research has shown that children learn best when they learn first in their mother tongue. This component of the project will build the capacity of teachers, parents, and community members to quickly and easily create the reading materials children need to facilitate mother tongue literacy learning.